Immersive Gardens 
An immersive garden uses natural landscaping materials paired with neutral colors and natural resources to enhance the beauty of imperfection. An immersive garden is supposed to look natural and man-made, so make sure to have native plants to keep the theme cohesive. People are starting to value a more relaxed and natural atmosphere for their landscape instead of a modern style. 
Lighting Trends 
Outdoor Wall Lights 
Wall lights can give a more pronounced effect to your outdoor space. You can take a plain wall and add lights to add some drama or it can highlight a more unique feature in your backyard. Outdoor wall lights can also be utilized as a safety feature if your backyard area is especially dark. Outdoor wall lighting is a  great residential landscaping trend that has more than one function. 
Smart Security Lighting 
This upcoming year, smart security lighting is going to become more popular because of its convenience and energy saving features. There are motion sensor lights or lights you can control via app or voice commands, making it convenient to control even if you aren't home.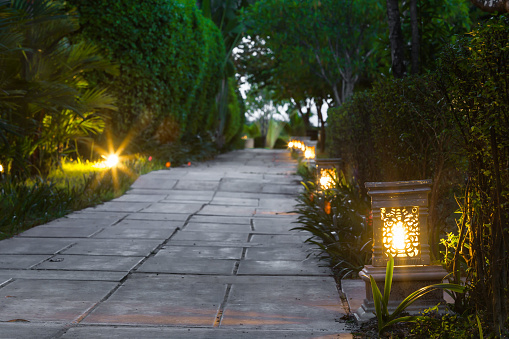 Pathway Lighting 
Pathway lighting is a residential landscaping trend coming up in the new year. Pathway lighting enhances your landscape and is a functionally safe feature that helps you navigate your way through your yard. 
Sustainable Lighting 
People are trying to be more conscious of the materials and resources they use, trying to be nicer to the environment and to their pockets. LEDs are gaining popularity although they may not seem affordable they end up saving you money in the long run. This is because they last longer and are more energy efficient meaning you don't spend as much money replacing your LED lights compared to your average light bulbs or as much money on your energy bill every month. 
Gravel Garden 
If you don't want to worry too much about the maintenance and upkeep of your garden or landscape, a gravel garden might be the right choice for you. Gravel gardens are great for people that don't have the time or don't like to constantly maintain their garden. Gravel gardens are also great for areas where it is prone to droughts or just dry places in general. Some items to consider to perfect your gravel garden are natural herbs, a bed of crushed stone, ornamental grasses, and perennials to add some color. 
Artificial Grass
Another residential landscaping trend for your home is using artificial grass in your yard or patio. Opting for artificial grass is great for many reasons and is especially great for those homeowners that love a polished garden look without all the maintenance. Once you have your artificial grass installed you won't have to worry much about it after that. Artificial grass is also great for year young usage if you like a green look throughout all the seasons. Lastly, artificial grass is great for your outdoor space if you like to keep your overall cost low. The average cost of artificial turf per square foot is anywhere from $6 to $19. 
Defined Outdoor Spaces 
Homeowners are choosing to define their outdoor spaces for their homes in 2023. For the last few years spending more time at home has become the norm so it isn't uncommon for people to want to optimize their spaces outdoors to include functional living spaces such as an outdoor kitchen, living room, or even an office outdoors. Connecting nature and efficient outdoor living spaces are becoming prioritized for a space to unwind and relax. 
Conversation Areas
A great residential landscaping trend for your home to add more of a friendly and chill atmosphere is to include a conversation area or pit. You can install built-in-benches and stadium-like seating for a cozy inviting space for your outdoor area. Adding features such as a fire pit, wooden picnic style tables, and additional chairs or sofas can really bring the space together. Conversation areas can be a way to really custom your space and make it your own while making it an inviting space for you and your guests. 
Lower Supplemental Water Plants
One of the biggest trends for your residential landscaping is having more "water wise" plants meaning plants that are plants that don't have as many water needs as other plants. Water conservation is becoming more of a way of life and less of a trend for many homeowners, especially those living in areas affected by climate change and severe droughts. Although practicing water conservation is crucial no matter where you live and can help you cut down on some costs. 
Bottom Line 
If you are thinking about renovating your outdoor space or garden keep these new trends in mind and make sure you have all the resources you need in order to get started living sustainably and comfortably in your stylish relaxing outdoor space. Some things to consider or keep in mind while planning your dream outdoor living space or garden is to plan your budget so you aren't blindsided by the costs, find a reputable landscaping company that will listen to your needs but offer a sense of expertise, and have realistic expectations for what you want.